VCP19 Publications
A range of publications are available for download
The VCP19 publications present a comprehensive assessment of Victoria's changing climate. For the purposes of the analysis of past and future climate, Victoria was divided into ten regions (see VCP19 Getting Started ).

The detailed Technical Report (see below) describes past and future climate change for Victoria and is aimed at a technical audience.

Easy to read summaries of projected climate changes are provided in separate Regional Reports - one for each of the ten Regions.

A range of Fact Sheets have also been developed to address particular topics of relevance to Victoria's changing climate and the VCP19 climate projections.
Please note: A small number of typographical errors were found in the Technical Report and Regional Reports after they were published. These are described in the Technical Report Erratum and Regional Reports Erratum that can be downloaded below. The versions of the Technical Report (whole report and individual chapters) and Regional Reports available for download below are the corrected versions.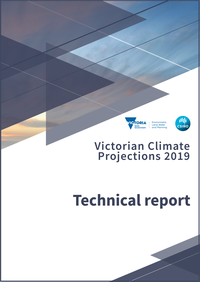 Download the Technical Report

Whole report (updated 14 Apr 2020) (36.0 MB)

Front material & Executive summary (420.3 KB)

Chapter 1 - Introduction (181.5 KB)

Chapter 2 - Methods (1.2 MB)

Chapter 3 - Important features of Victoria's climate (189.7 KB)

Chapter 4 - Model evaluation and confidence (17.8 MB)

Chapter 5 – Victoria's changing climate (updated 18/02/2020) (3.7 MB)

Chapter 6 – Victoria under the Paris Agreement targets and beyond 2100 (updated 18/02/2020) (305.9 KB)

Chapter 7 - Guidelines for using Victoria's climate projections (333.5 KB)

Appendix, Shortened forms, Glossary and References (13.0 MB)

Technical Report Erratum (104.3 KB)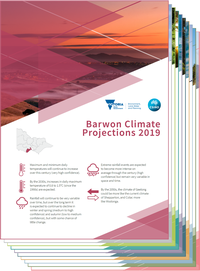 Download the Regional Reports

VCP19: Barwon Climate Projections 2019 (updated 19/02/2020) (1.8 MB)

VCP19: Central Highlands Climate Projections 2019 (updated 19/02/2020) (1.8 MB)

VCP19: Gippsland Climate Projections 2019 (updated 19/02/2020) (2.5 MB)

VCP19: Goulburn Climate Projections 2019 (updated 19/02/2020) (1.7 MB)

VCP19: Great South Coast Climate Projections 2019 (updated 19/02/2020) (3.1 MB)

VCP19: Greater Melbourne Climate Projections 2019 (updated 19/02/2020) (1.5 MB)

VCP19: Loddon Campaspe Climate Projections 2019 (updated 19/02/2020) (2.4 MB)

VCP19: Mallee Climate Projections 2019 (updated 19/02/2020) (1.5 MB)

VCP19: Ovens Murray Climate Projections 2019 (updated 19/02/2020) (1.9 MB)

VCP19: Wimmera Southern Mallee Climate Projections 2019 (updated 19/02/2020) (5.7 MB)

Regional Reports Erratum (96.8 KB)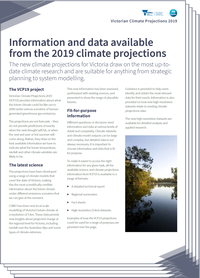 Download Fact Sheets

VCP19: Information and data available from the 2019 climate projections (158.6 KB)

VCP19: Why do we need another set of projections? (97.8 KB)

VCP19: Application-ready datasets (109.7 KB)

VCP19: Thinking about the future (154.8 KB)

VCP19: Emissions scenarios (631.3 KB)

VCP19: Frequently Asked Questions (285.7 KB)
------------
Page updated 24th December 2020